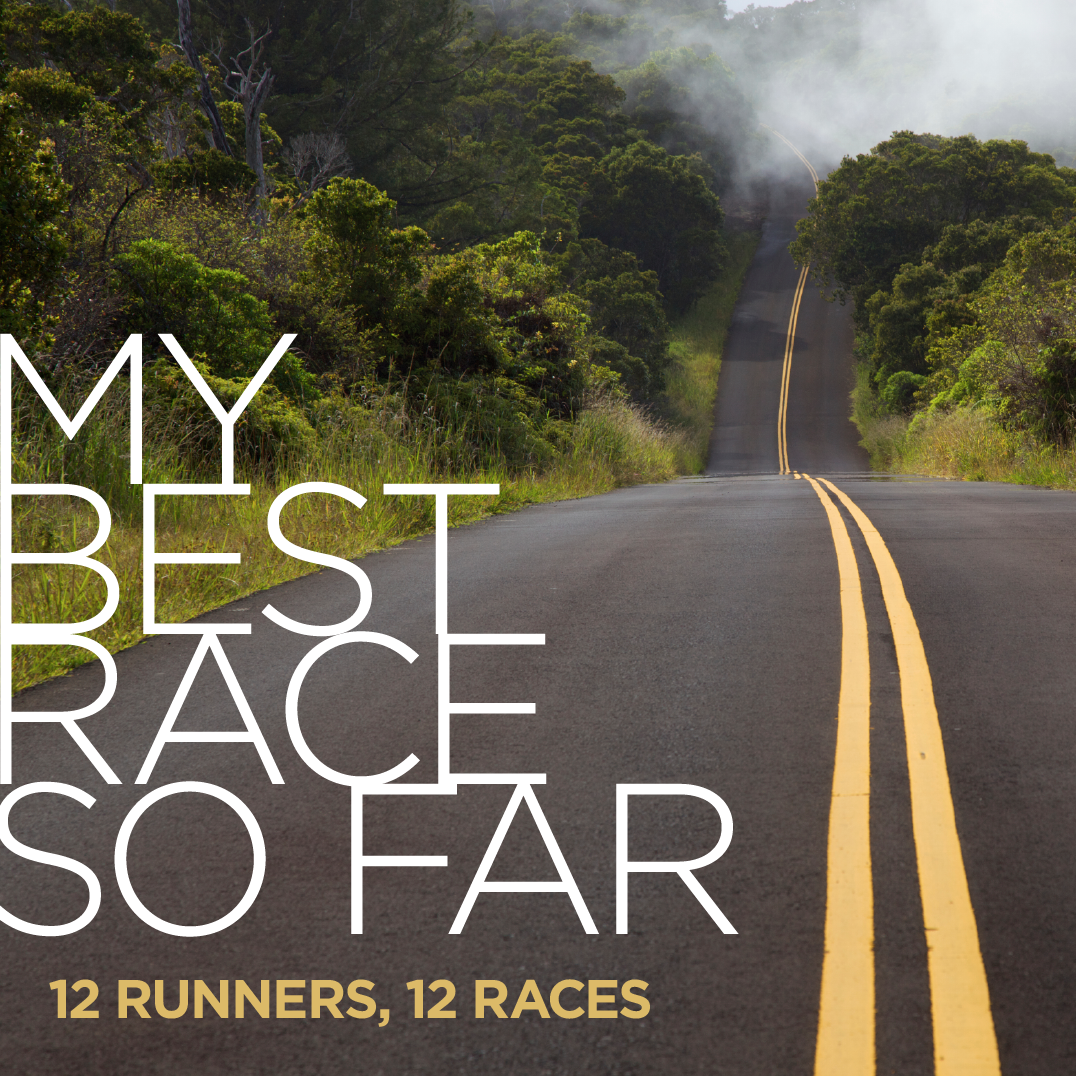 While we'd all love to think that our best race is still ahead of us,  for most runners there's a race or a couple of races that already stand out as particularly memorable. Not necessarily the fastest you've ever run, though it might be. Not necessarily a race that you won, though it might be.
What it tends to be, is a race that was deeply satisfying because you achieved what you were hoping to…or surpassed the big hairy audacious goal that you'd set yourself. They're the kind of races where you sit back later in the day and think, "I may run faster one day but, on this day, in the shape I was in, that's the best I could have possibly done…my best race so far". That's a great feeling. 
It's a sad thing if we can't enjoy what we've already accomplished or are so driven by the pursuit of the goals we have ahead that we miss the opportunity to say 'that one? That one was really good'.
These are the stories of a bunch of different runners from BT RunClub and their best races so far.
We hope these stories will inspire you as you chase your 'best race so far.'
Here's to the best races ahead…and running the race marked out before us.
——
SEPTEMBER:
Janet Lamb and the 2014 Melbourne Half Marathon

I don't think anything could prepare me for discovering the craziness that starts to emerge when running for a long time in your own company.
Up to this point, most of my training sessions were done at BT RunClub on Saturday mornings with Ange and involved a week's worth of debriefing, familiar landmarks and consuming our gel at the designated time.
We always ensured multiple water stops were on the agenda (however were promptly reminded by a fellow BT'er joining us one day that 'we weren't on a Saturday morning picnic'). True enough!
2014 was my debut year in half marathons, and I'd started to become familiar with the 'third' bridge and smelling the breakfasts people were enjoying in East Perth. I enjoyed the spontaneity of being able to do Melbourne. The date lined up with work over east; flights were already sorted.
In the days leading up to the event, I had started to notice my increasing caution when using bathrooms, stairs and walking on uneven ground. I was certain I was going to fall over or pull a vital muscle I'd need in the run. I managed to remain upright and was healthy on the day of the race.
After conversations with fellow runners (and much advice offered in the latest running magazine), I decided not to take any chances experimenting with breakfast on the day. I got up, got dressed and proceeded to eat the trusty banana pancake I'd prepared in QLD the day before, along with the hotel instant coffee. I was good to go!
My accommodation was just a short walk to the start line… if I walked straight there. I'm fairly certain. I left my hotel following a keen guy in running attire, took a few turns and saw some cool ally ways; turned out he was going for a morning coffee, not so much the race. I got to the start line with ten minutes to spare, had a gel, heard the gun, and started to run.
As I made it to the 10km arch, I realised I was on target, 50 minutes down. I felt satisfied, but a bit of pressure as no spare kilometres were in the bank for the remainder of the race.
The goal of 5:00/km was a challenge for me, set as a result of the Gold Coast's 5:15/kms, three months earlier. It was during this first ten I was able to utilise the pro-cup technique discussed at dinner the night before: squeeze the rim in the middle so as to get a large amount in the mouth rather than the eyes. Thanks, Fi!
From 8-15 kilometres, emotions varied. Thoughts ensued: 'I feel like I'm flying. Actually, I feel like I'm on the Titanic, at the front bit' …. shortly followed up by 'I hate my life. I hate running. Why am I here? Is this supposed to be fun? Stuff needs vacuuming.'
I attempted to resolve this by eating a Chomp at about 13-kilometre mark which kept me occupied, distracted and helped, I think.
Somewhere around the 16-kilometre mark, someone from the crowd yelled out 'way to go Janice!' And I was like 'Yeah, that'll do, I'm coming'. The end was drawing near, and I tried just to focus on maintaining momentum and pace.
Around 20km, I met the 'other' Janet. She was quite abrupt. Actually she was really hardcore, and she was telling me stuff with force. There was a sulky one too. Not sure which one I preferred. They tag-teamed in my head. Sulky Janet insisted that I immediately stop running altogether, cross my arms (for effect) and take a seat on the curb; possibly even directing a scowl at anyone attempting (cheerily) to make it through the finishing arch. She advocated that I'd run long enough, and it was time for a sit-down and 'I don't even care that the finish line is apparently 100m away.' Not entirely helpful.
After the negotiations between the Janets in my brain and the physical sight of the finish line, I finished the run in the goal time: 1:46. I thanked my legs for taking charge over my brain and getting the job done. I felt relieved, satisfied and had a pretty empty tank. I gathered my breath and started to walk, it was surreal that it was over.
As my mind began to muse over the lead up in the preceding months, the endorphin-fuelled buzz of the crowd started to transfer. I arrived at the agreed meeting spot, Skirt Sports, and waited for Graham and Simon (who were running the marathon). As I loitered, I heard potential and actual clients describe the garments as both 'snazzy' and 'jazzy'. Quite a few husbands were asked if they too saw the snazzy side of it all.
I now receive weekly Skirt Sports emails. Not even sure how that happened.
It was only later that night that I started to unpack the day's event. Perhaps it was 'My Best Race so Far' because it offered a measurable improvement on the last race or perhaps it was the satisfaction of hitting the target number on the head. Either way, what trumped everything was that this run was a sweet new experience on the backdrop a bunch of quality runs, with quality people, in a community that I think helped me get there.
Oh, and it was a lesson learnt in managing other personalities…that may emerge…or maybe that was just me. Yikes!